Due to the Covid-19 Pandemic,
Miss Leslie can only be  heard practicing on her porch in Southern California!
Be sure to watch the Los Angeles Opera Gala on October 15, 2020.
losangelesopera.org The fantastic Los Angeles Opera Orchestra will  be spotlighted in a virtual collaboration from wherever we are staying safe. Can you find Miss Leslie? She will be the one with the Tri-Cavalier look!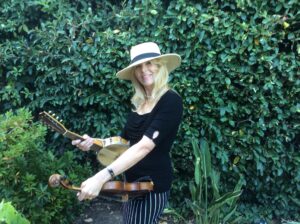 Guest Zoom Master Class for College & University  courses:
"Portals of Possibilities" Miss Leslie's interactive  presentation about being a working musician: solo  & recording or pit performer, teacher and beyond. Insider secrets  and encouragement to pivot and flourish in this changing world.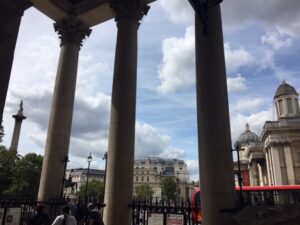 Fabulas & Fortunate Performances:
The Los Angeles Master Chorale, Walt Disney Concert Hall
"Sunrise"   by Jeff Beale,  libretto by Joan Beale.
Jan. 26, 2019 World Premiere screening at Disney  Concert Hall of this moving score with full orchestra and chorus.
Los Angeles Opera, Dorothy Chandler Pavilion, Music Center, downtown Los Angeles
"Eurydice" world premiere  by Mathew Aucoin/Sarah Ruhl, Los Angeles Opera opening February 1 – 23, 2019
Fantastic telling of the   Orfeus Eurydice story, from her point of view! A colorful Hades,  Stone Guardians,  a loving Father, memory washed away by water…and that fateful  walk.
"Roberto Devereaux" opening  February 22, 2019 through March 14 , 2019 at the Dorothy Chandler Pavilion
"Roberto Devereaux"  by Donizetti, conducted by Kim,
See and Hear us out of the Pit and up on the Concert Stage!
*Tuesday, Feb. 25th SPECIAL CONCERT PERFORMANCE ON STAGE at the MUSCO CENTER FOR THE ARTS. Orange County. Off Grand Production.
The Dominant Club Annual Christmas Tea Recital, December 14, 2019
Violin in Recital  with guest baritone Eli Katz joining Leslie in  selections by Amidav Aloni, and Gustav Holst.  The pensive and festive Israeli Concertino   from Leslie's CD, "The Jewish Violin Sings" is followed by an unexpected  "Peter Rabbit" – think Hilary Hahn hula hoop!
Pandemic Postponements with future season possibilities:
"Angel's Bone" opening May 1-3, 2019 at the Broad Stage
"Angel's Bone" by Du Yun/Royce Vavrek, Off Grand Production
"Pelleas and Melisande" opening May 2-23, 2019 
Pelleas And Melisande, by Debussy. Conducted by  James Conlon
"The Marriage of Figaro" opening June 6-28, 2019
The Marriage of Figaro, by Mozart conducted by James Conlon.
The Annual Formal Violin Recital, Stephen Wise Temple, June 7, 2020
Solo and Savory selections from  the past year of study. Swedish, Americana, and Classical.
The WACA Duo, Leslie Katz & Robin Lorentz.  December 2020 Sun City  Music Buffs.