Limited re-openings for In Person experiences due to the Covid-19 Pandemic.
Miss Leslie can  usually be  heard practicing on her porch in Southern California!
Monthly Group Class is more than a live reunion, it can become  a "PJ Porch Play-In"  or   "Doorstep Serenade" of our best tunes for some very lucky neighbors!
losangelesopera.org The fantastic Los Angeles Opera Orchestra is spotlighted in a virtual collaboration from wherever we are  safe. Can you find Miss Leslie? She is the one with the Tri-Cavalier look!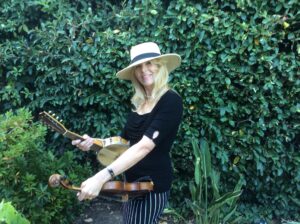 Guest Zoom Master Class for College & University  courses:
"Portals of Possibilities" Miss Leslie's interactive  presentation about being a working musician: solo  & recording or pit performer, teacher and beyond. Insider secrets  and encouragement to pivot and flourish in this changing world.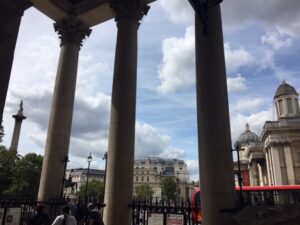 Fabulous & Fortunate Performances:
 "Andre Bocelli – Valentines Tour 2022"
Leslie is playing Principal Second for these festive concerts in Las Vegas – Feb. 18th, at the MGM Grand, and in Phoenix – Feb. 19th at the Footprint Center.
Are you traveling and in the mood for some romantic singing?
The Los Angeles Master Chorale, Walt Disney Concert Hall
"Dixit Dominus"   by George Frederick Handel and "Te Deum" by Arvo Pärt
One Performance only – 7pm Sunday March 20, 2022 – conducted by Grant Gershon
Dance at the Music Center – Hamburg Ballet John Neumeier
"Bernstein Dances" –  If you love Bernstein's West Side Story, Candide, On the Town, or Peter Pan,  this dance experience is for you!  (Bernstein's unwritten dance musical?!)    Performances March 11, 13, 19 at the Dorothy Chandler Pavilion    – Further info https://www.musiccenter.org
Los Angeles Opera, Dorothy Chandler Pavilion, Music Center
"St. Matthew Passion" by Johann Sebastian Bach
Conducted by James Conlon. with Soloists, Los Angeles Opera Orchestra, Hamburg Ballet dancers – Opening March 12- 17, 2022*
"Aida" by Giuseppe Verdi
Conducted by James Conlon – Opening  May 21 – June 12, 2022*
 *Special performances of LA Opera productions are available for Live-Streaming only $30 per access ticket! Check the schedule at losangelesopera.org
Los Angeles Jewish Symphony –   Education Outreach Concert Spring 2022
"A Patchwork of Cultures", 3pm Sunday, February 27, 2022 – Valley Beth Shalom, Encino, CA.     Contact lajs.org for details
Pandemic Postponements with future season possibilities:
"Angel's Bone" opening May 1-3, 2019 at the Broad Stage
"Angel's Bone" by Du Yun/Royce Vavrek, Off Grand Production
"Pelleas and Melisande" opening May 2-23, 2019 
Pelleas And Melisande, by Debussy. Conducted by  James Conlon
"The Marriage of Figaro" opening June 6-28, 2019
The Marriage of Figaro, by Mozart conducted by James Conlon.
The Annual Formal Violin Recital, June  details TBA
Solo and Savory selections from  the past year of study. Vivaldi Seasons, Swedish, Americana, and Classical.
The WACA Duo, Leslie Katz & Robin Lorentz.  December 2020 Sun City  Music Buffs.