Suzuki Method Violin lessons for children and adults
"As always, I admire your students' professionalism both musically and with their etiquette!!! Additionally, your whole vision of pairing the pieces with recipes was brilliant. You always present a fun, invigorating, enjoyable recital!!! (I'm jealous you weren't my piano teacher)
Lisa Edwards, concert pianist, collaborator and coach
Studio News!
Annual Formal Recital is coming June 15th!  Come listen , imagine,  then taste the music as performers write Stories and Rhythm Recipes about their piece,  and bring their Special Recipe   to grace the Reception Table!
The 2018 Practice-a-thon  results are fantastic! Everyone uploaded practice samples from their "daily discoveries!" for us to share and learn  from. The grand prize, created by master knitter Celia Katz, was the Philip Glass Troll complete with pocket and a detachable sweater! Philip Glass has joined two Vivaldi Trolls at Chez Hayden where I understand repetitions are now a way of life! HA HA!
Did You Know?
You can use your Sage Oaks  charter funds  for Violin Lessons here with Miss Leslie!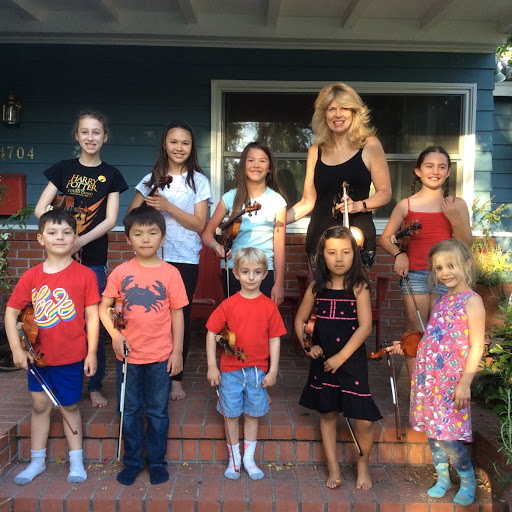 The Monthly Practice Tip:
DO MORE THAN NONE!
Dare yourself to a Five Minute Focus!
Keep your case open, or hang your instrument on the wall.  Half the problem is just getting started, or thinking that you don't have enough time at the time.
This months Inspirational Quote:
"99% of  the failures come from people who have the habit of making excuses"
George Washington Carver, scientist, teacher, and inventor 1864-1943
Enrichment Pre-Twinklers:
Our enrichment Pre-Twinkler Group Violin Class meets 9:30 – 10:30am on Saturday mornings, 2:30-3:30pm on Wednesdays. Violin and Art each class. Linda McManus leads the Art portion, Miss Leslie leads the Violin portion. Pre-School age and older siblings welcome.  Email for further Info.
Here's a little peek at what the little ones are doing!
Composer Rag: What month  was he released? (Birthday!)