Suzuki Method Violin lessons for children and adults
"As always, I admire your students' professionalism both musically and with their etiquette!!! Additionally, your whole vision of pairing the pieces with recipes was brilliant. You always present a fun, invigorating, enjoyable recital!!! (I'm jealous you weren't my piano teacher)
Yes, I would ALWAYS love to play together!!!
Lisa Edwards, concert pianist, collaborator and coach, on our 2018 Summer Recital"
Studio News!
The 2017 Royal Conservatory Certificate Program awards are in and Isabella Hayden, from our studio, has won:
National Gold Medal, Level 7 Violin
State Certificate of Excellence, Level 7 Violin
Center Certificate of Excellence, Level 7 Violin
Congratulations!
Joshua F and Elizabeth H also graduated their Book 2 and Book 3 respectively, receiving their diplomas at the Colburn School of Music at the beginning of this year. Well done!
Upcoming Studio Performances: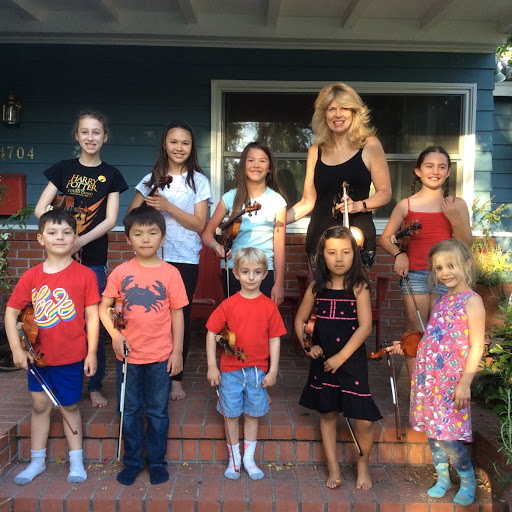 July 4th "Kling Street Fiddlers"
10am under the trees serenading the Firetruck and neighborhood morning schlep around the block!
The Monthly Practice Tip:
When you are practicing, you are working in a Time Block. To help you (and your parent) focus, and show each other that you are important to each other, Turn Off Your Cell Phone!
Let the voicemail be in charge of messages, and you will find it easier to stay present, concentrate on the job at hand, and nurture the most important human in your life
This months Inspirational Quote:
"Telephones are not a sign of power, they're a sign of subservience."
– Doug Pappas, baseball writer and researcher, 1962 – 2004
Pre-Twinklers:
A new Pre-Twinkler Group Violin Class is forming  this fall 9:30 – 10:30am on Saturday mornings, Violin and Art each class. Linda McManus leads the Art portion, Miss Leslie leads the Violin portion. Pre-School age and older siblings welcome. The first day of class is September 15, 2018. Email for further Info.
Here's a little peek at what the little ones are doing!
Composer Rag: